Hi everyone, Next year 2017, is the centenary of the death of WWI poet Francis Ledwidge. The committee are organising a number of events to commemorate the centenary. The committee have campaigned to have a commemorate stamp struck to honour Francis Ledwidge on the centenary of his death and it has been confirmed that this stamp will now be issued. The committee felt it was fitting that Francis Ledwidge should be honoured in a special way on the 100th anniversary of his death on 31st July 2017 and they have organised a trip to his final resting place in Artillery Wood Cemetery to mark this historic occasion. This is a four day trip; 29th July to 1st August 2017 and will include a visit to the Somme Battlefields, Flanders Battlefields, Menin Gate, Ledwidge grave and memorial etc. There will be a wreath laying ceremony with prayers and poetry readings at the grave of Francis Ledwidge on 31st July. There will be a some Welsh people there in Artillery Wood Cemetery on the same day commemorating the centenary of the Welsh poet Hedd Wyn who was killed on the same day as Ledwidge and is buried not far from Francis in the same cemetery.
Booking for this trip is now closed as of today-21/09/2016-with the maximum amount of people having booked their places. It promises to be a great event.
2012 Events
In the Footsteps of Ledwidge Walk 2012
The venue for the 2012"In Footsteps of Ledwidge'"walk was St Mary's Church of Ireland, Kentstown and the beautiful Somerville House and Estate. It took place on Sunday 3rd June at 3pm. James McComiskey gave a talk on the history of the church and Somerville House and Estate. Bobby Forrest was there once again to recite some Francis Ledwidge poetry and gave a great rendition of 'June'(see video). Conor McGrath, owner of Somerville House, gave us a lovely tour of the house. To round off the evening we heard Conor and his son Ryan playing two classical pieces by Debussy and Chopin on their beautiful Broadwood baby grand piano. A most enjoyable day.
In the Footsteps of Ledwidge Walk 2011
Big Success Despite the Rain
Despite the incessant rain our annual "In the footsteps of Ledwidge" walk was a great success. Bobby Forrest recited the poem 'To One Who Comes Now and Then' (see video) and James McComiskey give a talk on the historical backgrounds of all the large country houses and estates along the river upstream from Hayestown bridge as far as Ardmulchan and Donaghmore.Even though it was a case of 'whatever skies above you smile or frown' we had a great day.
Ledwidge Day in Slane Castle 2011
The venue for Ledwidge Day was Sunday 31st July 2011 in Slane Castle on the banks of the River Boyne, home to the Conyngham family since 1701. The main event took place in the Gothic Revival Ballroom. The special guest was poet, Irish Times journalist and Aosdána member. The title of the talk was 'It must be lovely down in Wilkinstown'. Ledwidge poetry was read by Frances Mulley from Belfast and Bobbie Forrest from Limavaddy. From Drogheda, Michael Holohan, Composer and Aosdána member, together with Miriam St. Lawrence, mezzo-soprano, performed three of Michael's compositions of Ledwidge poetry set to music. Susan Connolly, also from Drogheda, read her own poem on Francis Ledwidge and a group of traditional Irish musicians from North County Dublin rounded off the evening. Among the guests was Joe Ledwidge, nephew of the poet, with his wife Phyllis.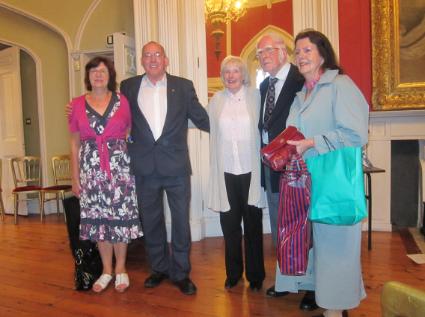 Rosemary Yore,Bobby Forrest,Phyllis and Joe Ledwidge, (nephew of the Poet), and Frances Mulley in the Gothic Revival Ballroom in Slane Castle on Ledwidge Day
Christmas Cards for Sale


Send Christmas greetings to friends and family this year with a Ledwidge theme. Beautiful personalised cards with poems and text by Francis Ledwidge are available for sale in the museum or you can view and order them online by clicking on the link Christmas cards.
Francis Ledwidge Museum, Janeville, Slane, Co.Meath, Ireland Tel: +353 41 9824974 www.francisledwidge.com