Launch of Francis Ledwidge Centenary Programme 1917 - 2017 in Solstice Art's Centre Navan
The centenary of the death of poet Francis Ledwidge will be commemorated throughout this year with a series of events organised jointly by the Francis Ledwidge Museum Committee and Meath County Council Cultural Services. The events will include the issuing by An Post of a Francis Ledwidge commemorative stamp in July, a programme of events in Slane, a visit to the poet's grave in Artillery Wood Cemetery in Belgium, and a special publication by Poetry Ireland to mark the anniversary of the poet's death on 31 July 1917 at Ypres. This will be edited by Tom French of Meath County Council whose poetry has been published by Gallery Press. The centenary programme was launched by Meath County Council and the Francis Ledwidge Committee at the Solstice Arts Centre, Navan, last Thursday on 23rd March. Cathaoirleach of Meath County Council, Cllr Marie Murphy, said the programme puts in place a plan which allows a cosmopolitan celebration of Ledwidge's work and she is particularly proud of the educational programme which includes drama, creative writing, and visual art. She referred to a combined exhibition of archival material as well as new and recent work by contemporary visual artists on the life and work of Ledwidge which will run from the end of April to 16 June at the Solstice Arts Centre. She also referred to the bronze plaques celebrating the work of Ledwidge by artist Liam Ó Broin which will be erected around Slane. Meath County Council chief executive, Jackie Maguire, said it will be the community that will keep the poet's legacy alive and she thanked the Francis Ledwidge Museum Committee, which has been working with the council on the formation of the commemoration programme since last year. The committee's enthusiasm to ensure Ledwidge will be remembered, has been an inspiration, the chief executive said. The chairperson of the Francis Ledwidge Museum Committee, Rosemary Yore, said Francis Ledwidge will be commemorated both nationally - there will be a national day of commemoration - and internationally, but most importantly he will be remembered in his native Meath. She thanked the chief executive, staff, and members of Meath County Council, for their professional courtesy, dedication and expertise, during the organising of the commemoration events. She also thanked councillor Wayne Harding, councillor Tom Kelly and the members of Laytown-Bettystown Municipal Authority for passing a motion for additional funding to erect a statue of Francis Ledwidge in the Slane Village Garden in this centenary year. She paid tribute to the original museum committee who had the foresight to buy the Ledwidge cottage in Slane back in 1979. The cottage was restored by this pioneering committee and is now a museum run on a voluntary basis. The Ledwidge Museum Committee has organised a programme of events in Slane from Thursday 22 June to Sunday 2 July. The evening at the Solstice also included the launch of a new edition of Dermot Bolger's publication, Francis Ledwidge, Selected Poems. Mr Bolger, spoke about his own early introduction to Ledwidge as a child and his first visit to the Ledwidge museum when he was mistaken for a 'burglar' as opposed to a 'pilgrim'. He has remained a life-long Ledwidge admirer and spoke warmly about the work done over the years to preserve the poet's legacy. 'I want to salute the people of Slane who bought the cottage,' he said. And he thanked the council and the museum committee for organising the commemorative events.
A Francis Ledwidge Bursary Award for Emerging Writers will be announced by Meath Council Arts Office on Poetry Day Ireland 27 April. This is one of the events organised by Meath County Council and the Ledwidge Museum Committee as part of the Francis Ledwidge Centenary 1917-2017 Programme. The events will continue throughout the year until October. Meath County Council has stated that the bursary will be open to emerging writers from all over the country and that the Tyrone Guthrie Centre will be a partner in the initiative. The council's Heritage Office, in conjunction with the County Library and the Ledwidge Museum, is organising a seminar on 14 October: Francis Ledwidge - Poetry and the First World War 1917-2017. The seminar will be facilitated by Gerald Dawe, Professor of English, Trinity College Dublin. In June and July, the Ledwidge Museum in Slane will hold a series of events which will include an art exhibition; tours, talks, and lectures; a poetry dinner on 23 June; children's' events and prize giving for best oration of a Ledwidge poem on 25 June; a poetry book launch; Slane Tidy Towns Commemorative Planting in the Village Garden on 30 June; a gala concert at Church of Ireland Slane on 1 July. The Museum Committee and Friends will visit the poet's grave at Artillery Wood Cemetery Belgium at the end of July. On 27 July An Post will issue a Francis Ledwidge commemorative stamp to mark the centenary. Meath County Council's library service, is also working with Poetry Ireland, to produce a special commemorative publication dedicated to Francis Ledwidge. This will be published 31 July, the anniversary of Ledwidge's death. It is edited by Meath poet Tom French and will feature works by leading Irish writers. Other events include readings from the poet's work by major Irish writers; National Print Museum workshops and a series of outdoor installations at Kells Type Trail Festival, by national and international artists and students from Dundalk and Athlone institutes of technology 23 June to 31 July; an exhibition by contemporary visual artists at the Solstice Arts Centre Navan entitled, A Name Unmade: Francis Ledwidge, which will run from 28 April to 16 June. The Solstice Arts Centre and the Nerve Centre Derry will also hold a graphic novel representation, Francis Ledwidge the Soldier Poet and has commissioned music trio There is an Island to arrange four new vocal pieces of Ledwidge's poetry The Boyne Valley Natural History Field Club will hold a series of events that will pay tribute to Ledwidge during Heritage week in August.
2012 Events
In the Footsteps of Ledwidge Walk 2012
The venue for the 2012"In Footsteps of Ledwidge'"walk was St Mary's Church of Ireland, Kentstown and the beautiful Somerville House and Estate. It took place on Sunday 3rd June at 3pm. James McComiskey gave a talk on the history of the church and Somerville House and Estate. Bobby Forrest was there once again to recite some Francis Ledwidge poetry and gave a great rendition of 'June'(see video). Conor McGrath, owner of Somerville House, gave us a lovely tour of the house. To round off the evening we heard Conor and his son Ryan playing two classical pieces by Debussy and Chopin on their beautiful Broadwood baby grand piano. A most enjoyable day.
In the Footsteps of Ledwidge Walk 2011
Big Success Despite the Rain
Despite the incessant rain our annual "In the footsteps of Ledwidge" walk was a great success. Bobby Forrest recited the poem 'To One Who Comes Now and Then' (see video) and James McComiskey give a talk on the historical backgrounds of all the large country houses and estates along the river upstream from Hayestown bridge as far as Ardmulchan and Donaghmore.Even though it was a case of 'whatever skies above you smile or frown' we had a great day.
Ledwidge Day in Slane Castle 2011
The venue for Ledwidge Day was Sunday 31st July 2011 in Slane Castle on the banks of the River Boyne, home to the Conyngham family since 1701. The main event took place in the Gothic Revival Ballroom. The special guest was poet, Irish Times journalist and Aosdána member. The title of the talk was 'It must be lovely down in Wilkinstown'. Ledwidge poetry was read by Frances Mulley from Belfast and Bobbie Forrest from Limavaddy. From Drogheda, Michael Holohan, Composer and Aosdána member, together with Miriam St. Lawrence, mezzo-soprano, performed three of Michael's compositions of Ledwidge poetry set to music. Susan Connolly, also from Drogheda, read her own poem on Francis Ledwidge and a group of traditional Irish musicians from North County Dublin rounded off the evening. Among the guests was Joe Ledwidge, nephew of the poet, with his wife Phyllis.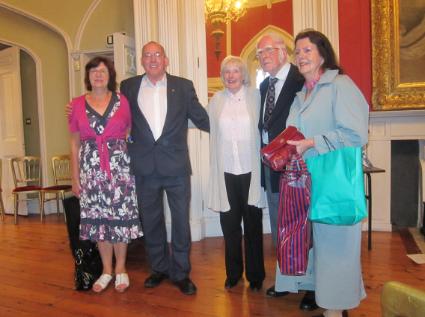 Rosemary Yore,Bobby Forrest,Phyllis and Joe Ledwidge, (nephew of the Poet), and Frances Mulley in the Gothic Revival Ballroom in Slane Castle on Ledwidge Day
Christmas Cards for Sale


Send Christmas greetings to friends and family this year with a Ledwidge theme. Beautiful personalised cards with poems and text by Francis Ledwidge are available for sale in the museum or you can view and order them online by clicking on the link Christmas cards.
Francis Ledwidge Museum, Janeville, Slane, Co.Meath, Ireland Tel: +353 41 9824974 www.francisledwidge.com