About The Francis Ledwidge Museum
This website is dedicated to the Irish poet Francis Ledwidge, known as the Poet of the Blackbird, who served as a soldier in the British Army fighting in World War 1 and was killed at the third battle of Ypres on the 31 July 1917 just seventeen days before his thirtieth birthday.
The site gives information on the life of the poet, his birthplace Slane, and the Francis Ledwidge Museum.
His first volume of fifty poems, Songs of the Fields, was published while he was still a serving soldier with the British Army in 1915. Three months after his death in 1917 his second volume of poems appeared, Songs of Peace, and thirty three more poems under the title, Last Songs, came out in 1918.
His Complete Poems, numbering 122,were published a year later, in 1919.
Edward John Moreton Drax Plunkett, 18th Baron Dunsany, his patron and friend, was mainly responsible for the collection of these poems and all four volumes were published by Herbert Jenkins, London.
Poems have been found in various newspaper, periodicals etc and there are now more than 200 poems published to date.
We have an online bookshop where various publications on the poet can be purchased including his Complete Poems edited by Alice Curtayne.
Today he is remembered for his verse which is gathering a larger and ever increasing audience. The cottage where he was born is now the Francis Ledwidge Museum with original letters, poems and memorabilia on display. View his life story displayed on wall panels or wander around the beautiful and tranquil garden with its flowers and wild life.
After his untimely death in July 1917, a contemporary poet, John Drinkwater observed;
"His poetry exults me,while not so his death.....to those who know what poetry is,the untimely death of a man like Ledwidge is nothing but calamity."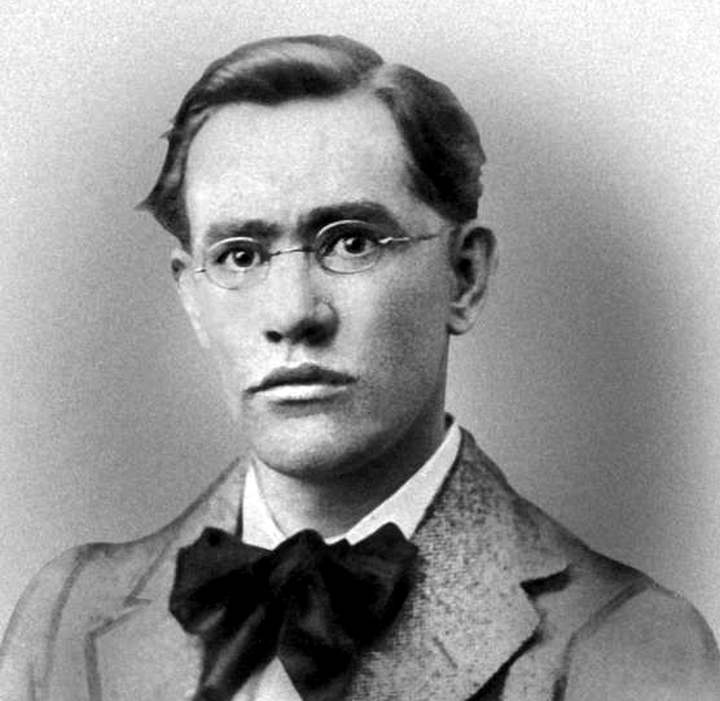 Francis Ledwidge aged 25 in 1913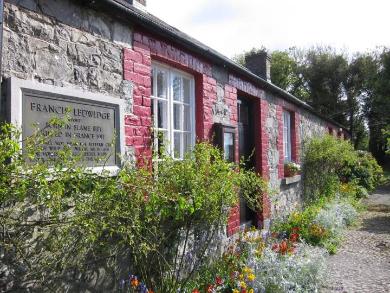 Francis Ledwidge Museum today
Michael McGlynn from Anúna carried out some filming at the museum last year, for inclusion in new documentary.
"On
Monday February 13th 6pm

GMT the documentary "Behind the Closed Eye" will be released to view. This feature-length film explores the
music of Irish composer Michael McGlynn and his relationship to the work of the poet Francis Ledwidge who was killed in the Great War in
1917. This beautiful production was filmed across Ireland and features stunning landscapes and music. It follows the creation of the album
"Behind the Closed Eye" by ANÚNA and The Ulster Orchestra and features live performances by ANÚNA (Ireland), Cantus (USA) and Apollo5 (UK).


Certainly one to enjoy over the next while when you get a chance to view.
Winter opening hours for the Museum are 10 am to 3.30 pm 7days a week with last guided tour at 3 pm. We close for the Winter break on Friday 15th December and will reopen on Monday 12th February 2024.
The Francis Ledwidge Museum in partnership with Gallery Press are delighted to announce a new edition of Poems by Francis Ledwidge. Edited by Peter Fallon, the book was launched at a reception hosted by the Francis Ledwidge Museum Committee in Slane Castle on Sunday 7th August.
There have been three different editions of Ledwidge's poems titled The Complete Poems. None is complete. This selection, the first book of Ledwidge's poems published in County Meath is based largely on the first of them published by Herbert Jenkins Ltd (London) in 1919 with introductions by Lord Dunsany and comprising Songs of the Fields (the one collection the author saw in his lifetime), Songs of Peace (the collection being printed at the time of his death) and Last Songs (a selection assembled by Dunsany, the author's mentor and patron). To those three sections have been added 'Other Poems', a selection drawing in the main on Alice Curtayne's pioneering scholarship and including work generously provided by Joe Doyle from the archives of Dunsany Castle.
This beautiful book is for sale in the Museum and in our Online Bookshop priced €22.50 for hardback and €14.50 for the paperback copy. ( postage and packaging are extra )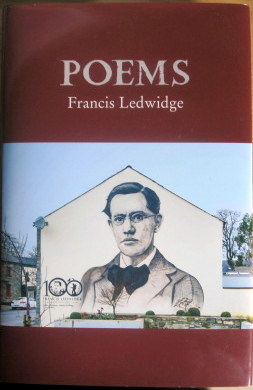 With reference to the above book launch of our new publication POEMS in Slane Castle on August 7th the speakers were Peter Fallon (Gallery Press), John Donohoe (Meath Chronicle), Randal Plunkett (21st Baron of Dunsany), Wayne Harding (Meath Co.Council) and Joe Doyle (Archivist from Dunsany Castle. The speakers were introduced by the chairperson of the Francis Ledwidge committee Terry Wogan and the video was produced by Brian McIvor. Refreshments were provided by Slane Castle staff and a good day was had by all.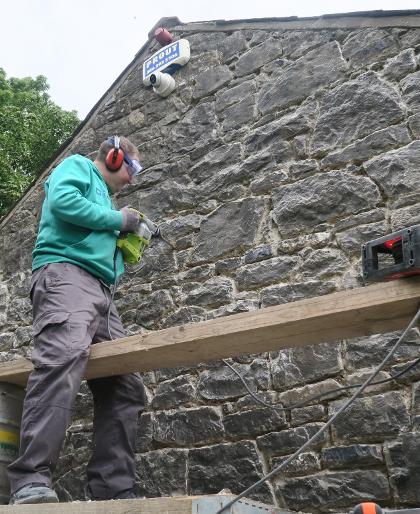 The Francis Ledwidge Museum wishes to gratefully acknowledge the receipt of support funding from Meath County Council through the Municipal District Allocation. This support funding will allow us to progress some vital building preservation work. We wish to thank @meathcountycouncil and our local area councillors for their ongoing support of the museum, and we look forward to working in partnership in the coming year.
Restoration and repair works have started on the west gable of the Museum. All the old cement mortar has to be removed and replaced with suitable lime and sand rendering. This is in keeping with proper architectural conservation guidelines - all left in the capable hands of our excellent stone mason, Mr. Eugene Gallagher from Slane.
Further conservation work to roof and windows will follow.

The ongoing Phase 1 restoration and repair works on the Museum are now complete. These consist of repaired slates and repointing of roof ridge tiles, cement mortar removed from west gable and replaced with suitable lime and sand rendering, beautiful new limestone slabbed path from front gate entrance, new cast iron downpipes and gutters, an extensive land drainage trench system around both the Museum and the building next door and a new rockery in the car park.
Francis Ledwidge Museum Structural Fund Appeal
The ongoing maintenance and protection of the Francis Ledwidge birthplace and home is overseen by our local voluntary committee and is funded through the support of fundraising activities and donors.
Sadly the 135 year old birthplace of the poet is now under threat from dampness and other structural issues. We need your support in order to address these issues and protect the home.
We have launched an appeal for donations so that vital work can begin and further damage to the historic structure can be avoided. The total cost of this conservation work is €40,000.
Please help us protect the Ledwidge Cottage for generations to come by donating to this appeal. Details of how you can donate can be found below. We are a registered Charity.
Our Registered Charity Number (RCN) is 20042257 and our CHY (revenue) Number is 13501.
Cheque or postal Order
Made payable to Francis Ledwidge Museum. Post to Janeville Slane Co. Meath.
Electronic Funds Transfer
Bank details are as follows: Company name Francis Ledwidge Museum
BIC AIBKIE2D
IBAN IE96AIBK93218305435071
Via PayPal
Please donate to info@francisledwidge.com through your PayPal account
Francis Ledwidge Website
Please click here to make €50 donation(s) via your Credit Card through the Museum structural Fund Appeal page on website
Admission Prices to Museum
Adults...………………€4
Students & Seniors €3
Family...…………….. €8.50
Children under 12...€1
Bus groups...………..€2.50 per person